Blog Article
Brought to the point of contact: Your app as a digital customer magnet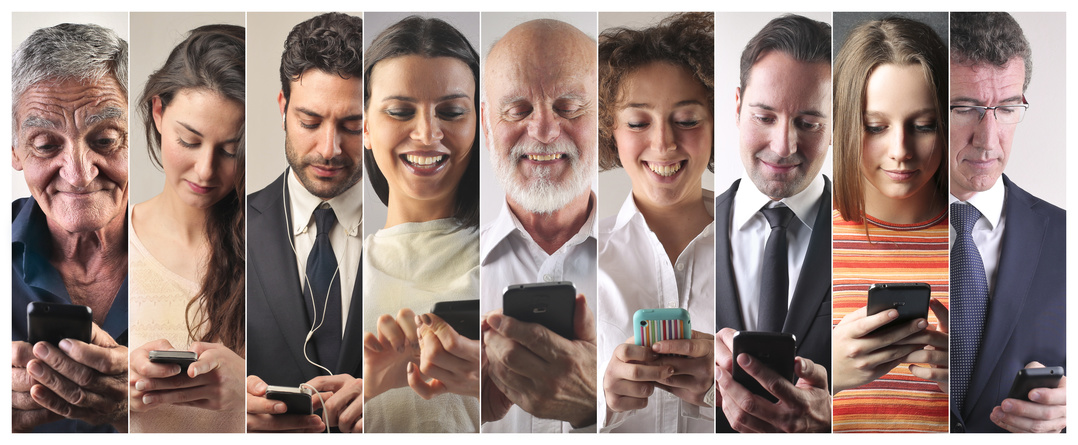 Apps provide continuous value to your existing and new customers and serve as digital touchpoints. This way, even companies from analog industries can really score points.Apps offer your existing and new customers continuous added value and serve as digital touchpoints. This is how companies from analog industries can also really score points.
Users want to communicate quickly, easily and on the go
Our digital world is constantly opening up new opportunities for communication, interaction and experience design. "Good old mail" and even corporate websites still take important roles in this game. But many other channels have been added that help determine the overall picture. Because whether customer, company or employee: the boundaries are becoming softer, the interaction more direct, the exchange more bidirectional. And mobile.
Today's users want to be in contact at eye level and get information quickly, easily and directly - whether during a coffee break, while shopping, on the train or on the couch. The most important device for this is the smartphone: always with them, always at hand, always online. And always ready for apps.
Accordingly, more and more people are using various apps to communicate with each other in different communities: WhatsApp, Facebook, Instagram, Twitter & Co. are ideal companions for exchanging ideas, recommending something, complaining or passing on new ideas.
If a company now wants to take advantage of these developments, create even more customer convenience, strengthen trust and improve the contact channels to its target groups, its own app offers optimal opportunities: information tailored to the target group, always up-to-date content, easy shopping, fast service - and all with one click. No time-consuming search, no ten browser windows, no unnecessary advertising.
Cleverly combining digital and analog with apps
Companies can gain more attention, retain existing customers, reach new customers and be found more quickly with their own app. And they can do so permanently - because the decisive factor is that users are not contacted once, but return constantly and independently.
This applies not only to online offerings, but also to the butcher's store next door: any product, no matter how analog at first glance, can successfully make a name for itself in the digital world, and indeed it should. Because even these "conservative" offers have their place in times of rapidly increasing digitization and can be combined with digital added value. Your customers will thank you if you offer them familiar concepts in new, optimized, digital forms.
Touchpoints offer information - and awaken emotions
The familiar concepts revolve around touchpoints: These are points of contact or touch between customers and companies. The choice of touchpoints was and is large: classically, they used to include a personal conversation in the store, a phone call with the customer service representative, and later an e-mail or a flyer. Today, websites, blogs, Facebook posts, etc. are also important touchpoints that a company can actively influence. And an app.
The decisive factor is that customers repeatedly receive information at these contact points during a product life cycle and are addressed emotionally at the same time. This creates a valuable connection between the target group and the company that is profitable for both sides.
In order to lead customers to these touchpoints in the digital world, it is important to have a clear, short path that is based on the habits of users and involves little effort on their part. Opening an email, doing a Google search or clicking on web pages can be one click too many these days.
Customer convenience is at the top of the list for apps
With an app, you create the ideal point of contact for your customers, accompanying them in a way that is as authentic as it is unobtrusive. The smartphone is now not only with the young and young-at-heart, but with almost all customer groups always at hand and in every everyday situation a companion: as conscious as impulse-driven, we always use it when ideas occur to us, we have questions or requests or want to exchange.
Classical touchpoints are no longer too compatible with this behavior - an app, however, offers everything that the modern user needs: immediately and without download on the spot, a goal-oriented interaction is offered mobile and simple, which invites continuous engagement. Little effort, lots of content, lots of performance, lots of service. When the customer wants, where the customer wants. No waiting times, no opening hours, but a relaxed experience.
Once placed on the home screen of the smartphone, an app can provide exactly the information that users are actively looking for, or send hints, news and tips independently and proactively, well-dosed and well-timed.
Delivering strong service directly to the smartphone
Let's come back to the butcher in concrete terms. His app represents the ideal touchpoint for his customers:
The app offers customers various information about the sausage selection, the individual varieties, your preparation as well as selected combination options. Finest content marketing in pre-sales - because the old touchpoint was usually the only briefly current brochure.
The customer can make his selection regardless of time and location: In clear and inviting form, the products are presented and can be ordered directly. Sales: Check. Classically, the customer would stand at the counter and, once it was his turn, would have to order more or less ad hoc under pressure from the following customers.
After delivery or pickup, the app sends a pull to convince itself of the customer's satisfaction. This touchpoint was rarely present in post-sales. If necessary, the butcher could ask old familiar customers about the last Sunday roast.
If something did not go optimally, the customer can quickly submit a complaint thanks to the app. Support can thus act as quickly as possible and make amends.
Other exciting possibilities of an app are public feedback, additional information that is sent automatically based on the purchases made, and the exchange with other community members. These and other touchpoint features create immense added value for your fans and make it as uncomplicated as possible for everyone at the same time: no phone call, no email, no tons of touchpoints or processors needed for them.
Your app has the potential to unite all touchpoints in itself, generate high reach, standardize processes and also give the butcher a digital touch.
Were we able to give you new ideas? Give you further suggestions? That makes us happy - and so does a "like" or a recommendation!