Update article
WebPush - Push notifications without store and download of the app
Did you know that push notifications is possible even without publishing to the well-known store? And even without the fixed installation and lengthy download of the app?

Yes, quite simply. Before that, a small restriction. The whole thing is possible under Android smartphones such as the Samsung Galaxy, Huawei, Google devices and so on. Apple devices are not currently allowed to play along. Nevertheless, you can already reach about 80 % of mobile users in the German-speaking area directly on their personal everyday object.

Let's get started. Start your App nevertheless simply as modern Progressive Web App over the existing address. Here at the example of the app from the municipality of Aldersbach in Bavaria.
After launching the app, you get relatively quickly the hint to simply activate Push after all.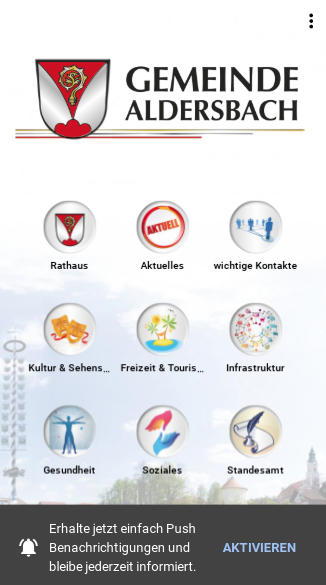 Here, all it takes is a tap and a quick confirmation and that's it. Even if the app is not permanently installed by the user, this can now receive push notifications around the clock.
Should you have missed the hint or evtl. subsequently want to change the setting about push reception, it can be changed at any time via the submenu with the three stars in the upper right area.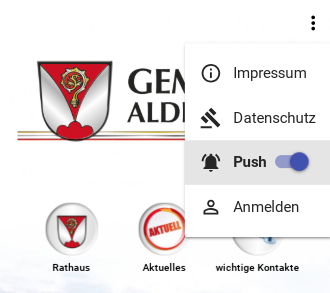 Now, as soon as you publish new articles under the news building block, they will be automatically pushed to these devices via Google and Apple AppStore in addition to the usual app users. You don't need to do anything else.