Update article
Login in the app - clear the way for more personalization and much more.
Your app has so far seen only anonymous users from the outside. Completely without face and voice.
In the meantime, things are different! New and old regular users of your mobile offer can now log in to the app using a simplified procedure and thus personalize it.

To do this, all you need to do is tap on the above right menu and the item "Log in".
Let's grab the "Willich erleben App" - the magazine for the entire city of Willich as a suitable example: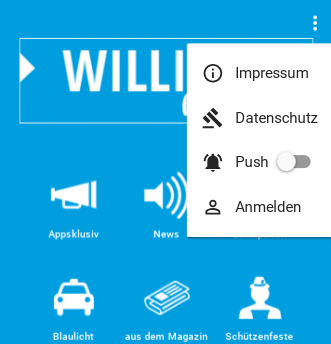 Only the email address is requested after the click. Which has to be confirmed in the next and last step.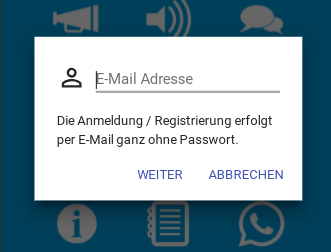 After confirming and returning to the app, you are already logged in as a user.
This opens up new avenues for new opportunities in the future. Your users can and should be able to interact more with your app in the future. Also, personal settings are now stored and thus kept safe.
You can find out how many users have already signed in if you want to disable this feature for whatever reason in the admin panel under general settings:

Small tip: using the submenu, you can now create areas in your app that is reserved for authorized people only. Again, you can simply store the email address as the person's access. More information is available in our help article.