Blog Article
Here's how: A booking agency as an example of smart app use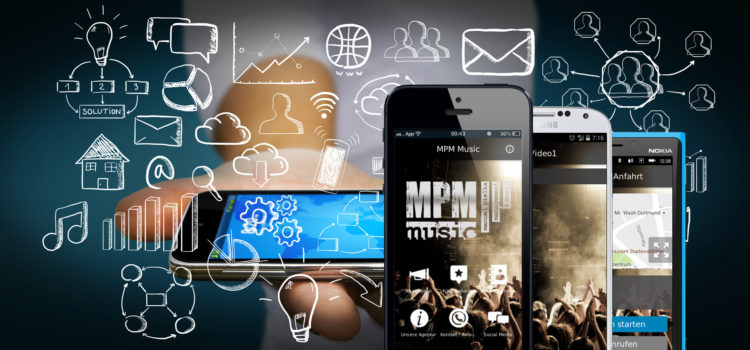 But Now! - Digitization Made Easy Episode II
In the first part of our series we tuned into digital transformation: Which digital structures can and should I use for my business model and which work steps and methods should I adapt flexibly.
Those who have not yet dealt with this comprehensively will quickly get into a spin here, as all areas of work are affected. Nevertheless, it is called to remain calm and to proceed step by step. We would like to support you in this.
Communication channel No. 1: With the smartphone, you can reach every target group
The focus of this series is initially on external and internal communication: How, where and when do I reach my customers, partners, colleagues? How can the flow of information be optimized, paths shortened, benefits increased?
With your own app as a touchpoint, these points can be effectively addressed: The smartphone as a constant companion is always at hand, the information accessible without a browser search and many clicks, the handling intuitive and inviting.
And the best: Anyone can create their own app today! No expensive programmers, licenses or softwares, no lengthy development process or complicated user manuals.
Butter by the fish: Here's how the path to your own app looks
In the first post of the series, we presented the steps to your own app: Plan, Attract Attention, Create, Design, and Launch. What sounds so simple, is also in reality! We would like to prove this with concrete examples and make it even easier for you to get started.
Let's take MPM Music, a large booking agency in the areas of charts, hits and 90s acts, as our first example. Here, event organizers can book stars and artists from TV and the press for their events.
The planning: what target groups, functions, content do we need?
In order to make it easier for their primary partners, as well as those who are fundamentally interested, to access the company's portfolio and provide them with the latest news quickly and easily, the company decided to use its own app.
There, the entire roster of stars can be viewed directly by customers. They can thus quickly see who is available and when, and also make a non-binding request while on the road.
At the same time, the app is intended to serve as a presentation and research tool in sales meetings: The agency employee can access all relevant data on site with just a few clicks and show it to the customer in an appealing form.
In addition, the company would like to implement a protected area in its app, where conditions, costs and the like are securely integrated.
The drumbeat: Gain as much attention as possible even before the launch
The booking agency MPM Music has used its existing channels to point out this new service to its customers, both digital and analog. In the newsletter and on the websites, the app is announced with pictures and information and the first features are described.
But that's not all: the staff also uses face-to-face communication with customers and partners to tell them in direct conversation about the advantages, e.g. that limited free dates and exclusive early booking promotions can be called up here particularly quickly and effortlessly.
The creation: what service do our customers need?
When creating it, the booking agency clearly decided that two aspects were particularly important and had to be available from the start: An overview of the booking file of all stars and the possibility of direct inquiry. Because that's exactly what customers want: Find quickly, book easily.
With a clear sorting, which is based on the form on the websites, they can select the category - for example, charts or hits - and immediately reach the listing of performers from this area.
Here, in addition to information, videos of the stars are also incorporated, so that interested can make a picture in the truest sense of the word.
In addition, there is the specification of the date request and the venue on the part of the customers. Thus, in turn, the agency receives all the initial relevant data and can respond quickly to the requests.
Your design, your branding: so your customers feel right at home
This step was quite simple for the booking agency: the corporate design is - as with many companies - already available. Colors, style and structuring were implemented analogously to the websites and the company logo was incorporated.
At the same time, the agency attached great importance to ensuring that the operation is intuitive and that the customer knows immediately what he can find and where, even when using it for the first time.
Ready, set, go! Test runs are successful
MPM Music has already started test runs in smaller circles and so far has received only positive feedback: Functionality, presentation, operation have been very well received. After a few weeks of planning and preparation, you're ready to go!
As you can see, it's not hard at all to create your own app with the features that matter to you and your customers. To show you the range of benefits and uses of apps, we will present the app of a school in the next post. Here, we had to include completely different content and features to reach the target groups of students, teachers and parents.
Simultaneously, we would like to delve a bit deeper into the topic of pre-sales.
Treat your app like a valuable product!
In this series, we will embed your app into a simplified model of pre-sales, sales and post-sales phases to address these topics one by one. This sounds a lot like Sale, but initially it just means that your app can be embedded as an important component alongside phone, email & in the entire course of a sale and post-sales.
There are many approaches to pre-sale, not all of which need to be implemented immediately and perfectly. However, the fact is that when integrated, they immediately have a positive outward impact on your image.
In pre-sales, people search and find
The goal is to make existing and potential customers aware of the app and showcase its benefits. Whether it's via social media, on the phone or in direct conversations: The important thing is to motivate your customers unobtrusively but steadily to use the app - you have enough arguments!
As every business deals with different processes, we will first provide generalized approaches and solutions in the next post. However, with a little creativity and further prodding from best practices, you can easily apply them to your individual purposes.
Do you have any particular channels, target groups or products that you would like us to discuss in conjunction with app usage? Are you unsure if this could work for you? Tell us about it, we look forward to hearing from you!